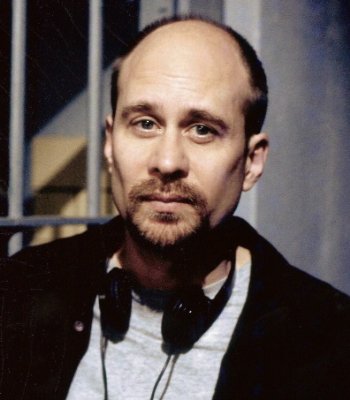 This part of Terry Kinney Online will host the articles and newsworthy items I find on TK. They'll be updated as I find 'em. Have fun! And email me if there's an issue. --Sam Lopez, WebJefa
From the Step website: A discussion with Philip Seymour Hoffman: Our Lady of 121st Street discussion with TK and PSH from the Steppenwolf archives
DEC 2005- Terry Kinney returns to Steppenwolf (after directing The Violet Hour there last season) for the 30th season to direct a play. He is interviewed about it in the newest issue of Backstage, the Steppenwolf in-house mag. Check out the Steppenwolf website for details and to buy tickets.
MAY 5, 2004: A note from the Hollywood Reporter:"Terry Kinney has joined the cast of CBS' upcoming CSI: New York in a recurring role, says The Hollywood Reporter. He will play a district attorney in the show, which will be introduced in an episode of CSI: Miami this month. "New York" reunites Kinney with series star Gary Sinise; the two co-founded, along with Jeff Perry, the Steppenwolf Theater Co. in 1975 and served as artistic co-directors." GS will head the new CSI spinoff--we wonder if Billy Petersen from CSI original recipe will be cool with this one! (I'm kidding...I ADORE WP and CSI!)
WOOHOO!! Congratulations to TK and wife Kathryn Erbe on the arrival Oct 2003 of Carson Lincoln Kinney, the couple's second child. All seem to be doing just fine! KE is back on Law & Order CI, and TK just penned a phone interview with Philip Seymour Hoffman for Steppenwolf's "Backstage" magazine (added 2-5-04, thanks Andrea B!)
Terry Kinney is in Chicago now to direct The Violet Hour for Steppenwolf's Mainstage-- it premieres this week and continues through June. See www.steppenwolf.org for prices and dates. (added 4/26/03)
TK's directorial feature debut, "Found in the Streets", is still in flux-- I have no idea where it's at or what is going to happen with it, but he's been associated with it for over a year now. I do believe it's done filming... when I know more you'll know too. (addded 4/26/03)
OZ ended a six-year run Feb 23 of this year. I'm SURE it will all be on DVD soon. (added 4/26/03)
As you all probably know, Oz is back on HBO (started Jan 5th) for an eight episode final season. Glad it's back, sorry it's gonna be gone! (added 1/13/03)
***IF YOU HAVEN'T DONE SO, CHECK OUT THE TK SLIDE SHOW ON MAIN PAGE (WITH MUSIC, EVEN!).*** (added 9-20-02)
*** Terry Kinney and Kurt Elling made a magnificent duo in "Petty Delusions and Grand Obsessions", marking not only your webslinger's first Steppenwolf attendance, but Mr. Kinney's return to the stage after a six year hiatus after "Buried Child" left him with stage trauma... I'll be posting a review and more info about the stage fright as soon as I get settled into my new job in Chicagoland. (added 7-30-02)
**Look for a review of the Steppenwolf "The Grapes of Wrath", which I just saw at the main Chicago Public Library on video, coming soon! Terry Kinney plays Jim Casy, the preacher turned visionary/activist. (Added 7-30-02)
**Terry Kinney, Christopher Meloni, and other "Oz" cast members past and present were at the NYC Tower Records "Oz" first season DVD release party and signing on March 22, 2002. (Added 4-1-02)
**WebJefa's Note: There was a "competing" Matthew Shepard movie on a week after "The Laramie Project" premiered, starring Sam Waterston and Stockard Channing. (added 3-26-02)
**Terry Kinney will star in HBO's "The Laramie Project", premiering March 9. (added 2-11-02) Here's a pic of the project follow up with cast and crew involved in this important event: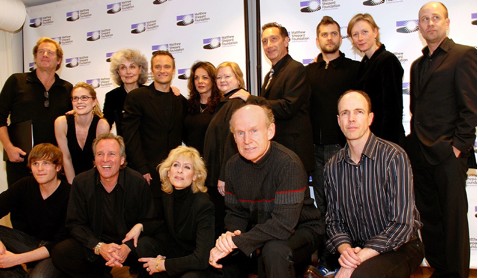 (Brief note added 3-26-02-- I thought the movie was very interesting, very intriguing, though perhaps not what people might have been expecting. There's not a lot on the Shepard family, but a lot on the residents of Laramie, WY. TK's part as Matthew Shepard's father was brief but he has a very powerful courtroom moment. SL)
**Steppenwolf has announced its 2002-2003 season-- Terry Kinney will direct Richard Greenberg's "The Violet Hour": "The most daunting task for John, an ambitious young publisher at the beginning of the 20th century, is choosing between publishing the work of a friend and the work of a lover. But suddenly, a mysterious machine appears and begins to spout unsettling news about the future. Unhappy with what destiny has dished out, John scrambles to make good and recreate the fate of his friends. This new work is a comic fantasy about fate,ambition, and loyalty." (added 2-11-02, Steppenwolf site)
**Terry Kinney directed the February 3, 2002 episode of "Oz". (added 2-11-02)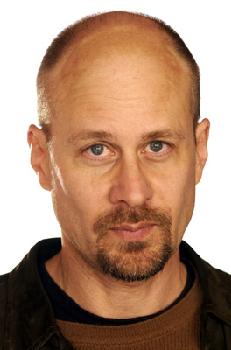 TERRY KINNEY'S BIRTHDAY IS JANUARY 29th. HAPPY BIRTHDAY!
from Step website-- link to this is on the left:
2003-2004, Volume 3 "Our Lady of 121st Street" – Discussion between Terry Kinney and Philip Seymour Hoffman.
Terry Kinney and Philip Seymour Hoffman were on different coasts, on their respective cell phones, in the middle of their busy days. The street noise on Terry's end in New York was intense, sirens, car horns. In his Los Angeles hotel room, Phil wasn't feeling well, talking quietly and intensely. Yet these two artists, both acclaimed director/actors, both leading members of their ensemble companies got together at Backstage's request, to talk about playwright Stephen Adly Guirgis, working within an ensemble, and the principles of great acting.
Terry Kinney: The LAByrinth Theatre has an ongoing relationship with Stephen Adly Guirgis, right?
Philip Seymour Hoffman: We do. I joined the LAByrinth Theatre about eight years ago, when it had already been around for a couple of years. At that time, the company was basically a bunch of actors, and we wanted to start producing original material. Obviously, that created the need for a playwright, and a few of these actors started writing. And Stephen was one of them. That was really significant for the company, because we started choosing works based on whether writers were creating roles for our actors, and out of that came a consensus, amongst the company, of what we find to be exciting theater. Stephen is definitely a writer who is writing great roles for actors.
TK: We've been fortunate when our ensemble members have created work for our company. A great example is when Frank Galati created his adaptation of Grapes of Wrath for us. When Frank was brought into the company, we were starved for a director/actor who could also write his own material. It's a great thing when writers have the sensitivity to write well for a specific group of actors, which comes out of working together over an extended period of time. I think that's something we could do much more often, frankly.
PSH: Well, we've actually started to attract writers into the company since that early time, writers like John Patrick Shanley (author of Danny and the Deep Blue Sea and Moonstruck). His last three plays were written for members of the LAByrinth company. That's something we're trying to encourage now, expanding that reach of our ensemble. But I've always thought that there was a similarity between LAByrinth and Steppenwolf. Growing up, and later on, in college, we all looked towards Steppenwolf as a model company. A lot of young actors look towards people like you, Gary Sinise, John Malkovich and all the actors that were coming out of your company as being some of the best in the business. Steppenwolf always had a very distinct voice that originated from the actors. A very powerful, very new, and very alive voice in the American theater, and that is something that LAByrinth strives for as well. Just like you guys in the early days, these actors aren't well known people, they're not celebrities. They're really coming out of the fabric of New York City. You really see something exciting with the actors coming out of LAByrinth, like you see with Steppenwolf actors.
TK: That's one of the things I admire so much about your company, that you're leading with your actors. It's the actor's event. The designers, the director, even the writer, are all there to make a place for great acting. If you start with acting, then everything else falls into place. I think that your company's success has come out of having such a strong writer like Stephen to tailor these roles for your actors. They're able to play to their strengths, and stretch themselves at the same time. It's obvious the kind of creative spark he gets from writing for the company, specifically for an ensemble of actors.
PSH: It really is exciting, isn't it, to watch your fellow company members, who were kind of green when they were just starting out as actors, and to watch them, over the period of a decade as they've grown into powerhouses. They've grown into really fine actors. For myself, I learned so much from these people, I grew up a lot in the company and became a better actor. You're all a family, you all kind of watch out for each other and push each other and that is the greatest part of the whole experience. It's the same for the playwrights and the directors in the company, but it did start with the acting ensemble.
TK: I couldn't have said it better. What kept driving us forward at Steppenwolf was the space between the actors. None of us ever created a character on our own and then just showed it to everybody. That's the ensemble experience, pushing each others' buttons, throwing each other something different and unexpected. Your fellow actors define your work as an actor as much as you define it yourself. That is very exciting — to trust people to know you, to bring out the best in you, and to take you farther than you went last time.
PSH: Absolutely, acting is a very scary thing. Especially if you're working on a play by somebody like Sam Shepard, where you should just check yourself into a hospital when you're done. When you're dealing with any playwright who is challenging in a visceral way, an ensemble makes it possible to do that kind of courageous work. The ensemble pushes each other, because people feel safer about actually taking those emotional risks. You think, it will be okay to walk out on stage and do this type of work, there's someone there with me.
TK: Right, it softens the landing. When you head into the dark without the flashlight, you're there with people that you trust. It's a bit of comfort on that difficult journey.
_______________________________________________________________
****San Jose, CA film fest closing night gala to include TK directed short film! Shorts Program 2: ``Ties and Expectations'' With films directed by Ian Olds, Lars Blumers, Alex Weinress and Rob Carlton, Terry Kinney, Kris Elgstrand, David Elver, Marjan Alizadeh, Elias Brossoise and Kerri Davenport-Burton. 6:15 tonight; 4:15 p.m. March 3; 2 p.m. March 8; Camera 12.
***TK directed "Agony and the Agony" at Vineyard Theater in NY. Friday, December 8, 2006; Posted: 2:19 PM - by BWW News Desk
Nicky Silver's play The Agony and the Agony begins performances December 8, 2006 at the Vineyard Theatre (108 East 15th Street). Directed by Terry Kinney, the play has a cast that features the playwright himself, joined by Victoria Clark, winner of the Tony Award for The Light in the Piazza, and Cheyenne Jackson, who starred on Broadway in the musical All Shook Up.
Scheduled through December 22nd, the show is presented at the Vineyard as one of the theatre's Lab Productions -- new works that are fully rehearsed and staged, with limited production values, and not open to the press for review.
While tickets to Lab Productions are regularly available only to Vineyard Theatre members, The Vineyard has announced that beginning December 9, a limited number of seats for $25 will be released for sale to the general public two hours prior performances, subject to availability. Phone sales will not be accepted for rush seating. If a performance is sold out, a wait list for the $25 seats will begin 2 hours prior to curtain.
In The Agony and the Agony, Clark plays an ambitious actress married to a desperate playwright, played by Silver, while Jackson plays an aspiring young actor whose arrival mixes things up even more. Terry Kinney, who directed Silver's Beautiful Child at The Vineyard, will direct.
The cast also includes Michael Esper, Harry van Gorkum and Marilyn Torres.
The play marks the first stage appearance in New York for Clark since her triumph in the role of Margaret Johnson in the Craig Lucas-Adam Guettel musical The Light in the Piazza at Lincoln Center, a performance that earned her the 2005 Tony, Drama Desk and Outer Critics Circle awards for Best Actress in a Musical.
In addition to his acclaimed starring role in All Shook Up, Jackson recently appeared as real-life hero Mark Bingham in the 9-11 film, "United 93."
Mr. Silver's work has been seen in New York predominantly at The Vineyard, which has premiered such works as the playwright's Pterodactyls, Raised in Captivity and The Maiden's Prayer.
SOMETHING "NEW" HERE.... ALSO FOUND ON THE ARTICLES PAGE BELOW...
Copyright 2001 The Providence Journal Company The Providence Journal-Bulletin
May 11, 2001, Friday, All EDITIONS
The ubiquitous Terry Kinney
With his staging of One Flew Over the Cuckoo's Nest playing on Broadway, a leading role on the HBO series Oz and roles in several recent films including Young Girl and the Monsoon Terry Kinney looks like the latest King of All Media.
"Maybe I'm in all media," Kinney said from his home in Brooklyn, N.Y., "but I'm a blue-collar guy in every arena. I just tend to do things that cult audiences watch." A founding member of Chicago's Steppenwolf theater company - he's directing his old Steppenwolf cohort Gary Sinise in Cuckoo Kinney has mainly been employed in movies in supporting roles. But The Young Girl gives him a solid leading role, as a divorced New York photojournalist who can't bring himself to tell his 13-year-old daughter (Ellen Muth) about his 26-year-old girlfriend (Mili Avital).
"We did it on a very small budget and a few locations around New York," Kinney said. "It was such a hard shoot. I had a broken foot the entire time, it was hot and really uncomfortable and everybody screamed at each other all the time. But we really liked the material a lot."
Kinney also played an emotionally distant divorced dad in the recent box-office hit Save the Last Dance, which he describes as "a kids' movie."
"But it didn't start off that way," he added. "Most of the story was about a teenage girl adjusting to living with her father. Most of the dark qualities about where he lives and how he lived had to be cut out because MTV bought the movie."
Internal TKO Links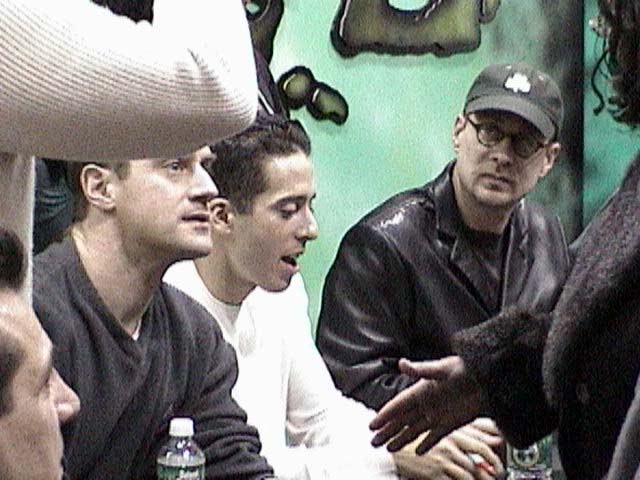 TK and "Oz" castmates at Tower Records DVD release signing party in New York City, 3-22-02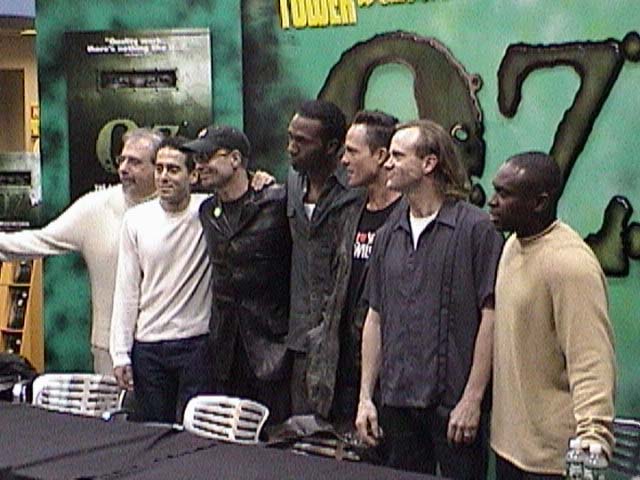 TK & Gary Sinise, "That Championship Season"
Final Season of OZ photos and promos: