ARTICLES ON TERRY KINNEY
(easy to read, updated version)
Updated Oct 8, 200
from Steppenwolf Archives-- Philip Seymour Hoffman and TK talk "Our Lady of 121st Street": Here!
2003-2004, Volume 3
Our Lady of 121st Street – Discussion between Terry Kinney and Philip Seymour Hoffman.
Terry Kinney and Philip Seymour Hoffman were on different coasts, on their respective cell phones, in the middle of their busy days. The street noise on Terry's end in New York was intense, sirens, car horns. In his Los Angeles hotel room, Phil wasn't feeling well, talking quietly and intensely. Yet these two artists, both acclaimed director/actors, both leading members of their ensemble companies got together at Backstage's request, to talk about playwright Stephen Adly Guirgis, working within an ensemble, and the principles of great acting.
Terry Kinney: The LAByrinth Theatre has an ongoing relationship with Stephen Adly Guirgis, right?
Philip Seymour Hoffman: We do. I joined the LAByrinth Theatre about eight years ago, when it had already been around for a couple of years. At that time, the company was basically a bunch of actors, and we wanted to start producing original material. Obviously, that created the need for a playwright, and a few of these actors started writing. And Stephen was one of them. That was really significant for the company, because we started choosing works based on whether writers were creating roles for our actors, and out of that came a consensus, amongst the company, of what we find to be exciting theater. Stephen is definitely a writer who is writing great roles for actors.
TK: We've been fortunate when our ensemble members have created work for our company. A great example is when Frank Galati created his adaptation of Grapes of Wrath for us. When Frank was brought into the company, we were starved for a director/actor who could also write his own material. It's a great thing when writers have the sensitivity to write well for a specific group of actors, which comes out of working together over an extended period of time. I think that's something we could do much more often, frankly.
PSH: Well, we've actually started to attract writers into the company since that early time, writers like John Patrick Shanley (author of Danny and the Deep Blue Sea and Moonstruck). His last three plays were written for members of the LAByrinth company. That's something we're trying to encourage now, expanding that reach of our ensemble. But I've always thought that there was a similarity between LAByrinth and Steppenwolf. Growing up, and later on, in college, we all looked towards Steppenwolf as a model company. A lot of young actors look towards people like you, Gary Sinise, John Malkovich and all the actors that were coming out of your company as being some of the best in the business. Steppenwolf always had a very distinct voice that originated from the actors. A very powerful, very new, and very alive voice in the American theater, and that is something that LAByrinth strives for as well. Just like you guys in the early days, these actors aren't well known people, they're not celebrities. They're really coming out of the fabric of New York City. You really see something exciting with the actors coming out of LAByrinth, like you see with Steppenwolf actors.
TK: That's one of the things I admire so much about your company, that you're leading with your actors. It's the actor's event. The designers, the director, even the writer, are all there to make a place for great acting. If you start with acting, then everything else falls into place. I think that your company's success has come out of having such a strong writer like Stephen to tailor these roles for your actors. They're able to play to their strengths, and stretch themselves at the same time. It's obvious the kind of creative spark he gets from writing for the company, specifically for an ensemble of actors.
PSH: It really is exciting, isn't it, to watch your fellow company members, who were kind of green when they were just starting out as actors, and to watch them, over the period of a decade as they've grown into powerhouses. They've grown into really fine actors. For myself, I learned so much from these people, I grew up a lot in the company and became a better actor. You're all a family, you all kind of watch out for each other and push each other and that is the greatest part of the whole experience. It's the same for the playwrights and the directors in the company, but it did start with the acting ensemble.
TK: I couldn't have said it better. What kept driving us forward at Steppenwolf was the space between the actors. None of us ever created a character on our own and then just showed it to everybody. That's the ensemble experience, pushing each others' buttons, throwing each other something different and unexpected. Your fellow actors define your work as an actor as much as you define it yourself. That is very exciting — to trust people to know you, to bring out the best in you, and to take you farther than you went last time.
PSH: Absolutely, acting is a very scary thing. Especially if you're working on a play by somebody like Sam Shepard, where you should just check yourself into a hospital when you're done. When you're dealing with any playwright who is challenging in a visceral way, an ensemble makes it possible to do that kind of courageous work. The ensemble pushes each other, because people feel safer about actually taking those emotional risks. You think, it will be okay to walk out on stage and do this type of work, there's someone there with me.
TK: Right, it softens the landing. When you head into the dark without the flashlight, you're there with people that you trust. It's a bit of comfort on that difficult journey.
Turn the River By RONNIE SCHEIBA, Variety, Nov 7, 2007
Mr. Nice presentation, in association with Bandora, of a Mr. Nice production. Produced by Ami Armstrong. Executive producers, Darby Parker, Catherine Kellner, Chris Eigeman, Richard Fitzgerald, Douglas Schmidt. Co-producer, Gary Giudice. Directed, written by Chris Eigeman.
With: Famke Janssen, Rip Torn, Jaymie Dornan, Lois Smith, Matt Ross, Terry Kinney, Marin Hinkle.
Chris Eigeman's highly accomplished writing-directing debut, "Turn the River," is a meller/thriller about a poker-playing pool hustler trying to score enough money to run away with the son she was forced to abandon at birth. Down-and-dirty character study seems a stretch for Eigeman, who, as an actor, practically patented rich and smug, and a curious starring-role choice for elegant Famke Janssen. But atmospheric pic positively vibrates with authenticity, and Janssen's intense, febrile perf earned a special jury prize at the Hamptons fest, where pic also garnered screenwriting laurels. Taut femme "sports noir" could build an enthusiastic indie following. Hanging out with the guys in a small town in upstate New York, Kailey (Janssen) ekes out a living playing poker, periodically driving into Gotham to hustle pool games and check up on her gruffly protective mentor, Quinn (a wonderfully world-weary Rip Torn), who runs a hardcore hall.
Quinn also serves as a mail drop for Kailey's secret correspondence with 11-year-old son Gulley (Jaymie Dornan), their exchanged letters unbeknownst to Kailey's rich, mama's-boy former husband (Matt Ross). Kailey is determined to wrest her son from the toxic clutches of her alcoholic ex-hubby and his domineering mother (Lois Smith, in fine, steely form). Kailey's quest to raise $50,000 for fake passports that will allow them to head to Canada provides the impetus for the bulk of the film.
In casting a woman in a traditionally male role, Eigeman subtly shifts both genre and gender. His heroine adopts the iconography of the hustler movie, but feminizes it: The image of a woman camping out on a pool table reads less as rugged than vulnerable. When Kailey gets beaten up, it's not for being a hustler but for being a woman, as male rage explodes on the barest pretext.
On the domestic sudser side, even at her most radiantly maternal, Kailey's mannerisms have a somewhat masculine directness as she instantly drops to her knees to welcome her enthusiastically running son, or brusquely engages him in escape mode. Janssen's Kailey exudes a survivalist energy and wrong-side-of-the-tracks physicality quite distinct from the fetishized superheroine the actress embodies in the "X-Men" movies.
Janssen effortlessly carries "Turn the River," interacting with barmaids and waitresses and scoping out poker bluffs and pool marks. But unlike alpha-male hustler films (like "The Color of Money"), there is little virtuoso shot-making on display. Instead, Kailey relies on Quinn to gauge potential opponents based on her talent. Sometimes strung-out, brittle and rash, and sometimes vibrant, confident and in control, her game mirrors her ability to cope with an environment that reveals itself as alternately feral and protective.
Tech credits are aces. Hernan Michael Otano's lensing ups the contrast between Kailey's naturally nocturnal environment and a daylight so unforgiving it actually makes her vomit from sheer stress.
******************************************
****San Jose, CA film fest closing night gala to include TK directed short film! Shorts Program 2: ``Ties and Expectations'' With films directed by Ian Olds, Lars Blumers, Alex Weinress and Rob Carlton, Terry Kinney, Kris Elgstrand, David Elver, Marjan Alizadeh, Elias Brossoise and Kerri Davenport-Burton. 6:15 tonight; 4:15 p.m. March 3; 2 p.m. March 8; Camera 12.
***TK directed "Agony and the Agony" at Vineyard Theater in NY. Friday, December 8, 2006; Posted: 2:19 PM - by BWW News Desk
Nicky Silver's play The Agony and the Agony begins performances December 8, 2006 at the Vineyard Theatre (108 East 15th Street). Directed by Terry Kinney, the play has a cast that features the playwright himself, joined by Victoria Clark, winner of the Tony Award for The Light in the Piazza, and Cheyenne Jackson, who starred on Broadway in the musical All Shook Up.
Scheduled through December 22nd, the show is presented at the Vineyard as one of the theatre's Lab Productions -- new works that are fully rehearsed and staged, with limited production values, and not open to the press for review.
While tickets to Lab Productions are regularly available only to Vineyard Theatre members, The Vineyard has announced that beginning December 9, a limited number of seats for $25 will be released for sale to the general public two hours prior performances, subject to availability. Phone sales will not be accepted for rush seating. If a performance is sold out, a wait list for the $25 seats will begin 2 hours prior to curtain.
In The Agony and the Agony, Clark plays an ambitious actress married to a desperate playwright, played by Silver, while Jackson plays an aspiring young actor whose arrival mixes things up even more. Terry Kinney, who directed Silver's Beautiful Child at The Vineyard, will direct.
The cast also includes Michael Esper, Harry van Gorkum and Marilyn Torres.
The play marks the first stage appearance in New York for Clark since her triumph in the role of Margaret Johnson in the Craig Lucas-Adam Guettel musical The Light in the Piazza at Lincoln Center, a performance that earned her the 2005 Tony, Drama Desk and Outer Critics Circle awards for Best Actress in a Musical.
In addition to his acclaimed starring role in All Shook Up, Jackson recently appeared as real-life hero Mark Bingham in the 9-11 film, "United 93."
Mr. Silver's work has been seen in New York predominantly at The Vineyard, which has premiered such works as the playwright's Pterodactyls, Raised in Captivity and The Maiden's Prayer.
March 06, 2002, Wednesday
Terry Kinney takes on 'Laramie Project'
SOURCE: Scripps Howard News Service
BYLINE: LUAINE LEE

  PASADENA, Calif. - When actor Terry Kinney was little he was always in trouble. "I was very mischievous but also someone that would constantly try to charm people, so I was class president in high school, but they tried to impeach me as well," he says, smiling.

That's why a guy like Kinney can play the tough prison administrator McManus in "Oz," as well as a grief stricken father of gay college student Matthew Shepard in "The Laramie Project," which premieres Saturday on HBO. "So there were two sides. I was a pretty emotional kid," says Kinney, who talked his way into "The Laramie Project" by convincing the writer-director that he could nail the part.

"I didn't like bullies and things like that. I always had a sense of right and wrong that was so overly developed. I got into trouble because I didn't listen to other people's rules. I made my own. And then I stuck by them and also preached about them to other people. If I saw someone being beaten up falsely or whatever - I came from a very small town and tended to jump into everything that I shouldn't jump into."

In a way, "The Laramie Project" was created by outsiders jumping into the affairs of another small town.

The film, which is adapted from a play, comprises interviews with the people of Laramie, Wyo. after the shocking anti-gay murder of Shepard four years ago. The interviews were conducted by a New York theater company who coalesced them into a play.

This film is about that process and stars people like Laura Linney, Steve Buscemi, Jeremy Davies, Peter Fonda, Janeane Garofalo, Camryn Manheim, and Christina Ricci.

Kinney says he relishes playing people mired in different psychological states. "I think I like to get into the head of very, very different people from myself and live like them a couple of hours," he says.

"My uncle is a priest and used to direct us in family plays. He directed all the plays at his seminary, and so I would go see those and get so involved, and knew I wanted to do something like that."

Kinney's dad wasn't sure his son could make a living at acting. And the truth is, neither is Kinney. "In retrospect all that talk about 'have something to fall back on,' I didn't want to fall back and wouldn't have done that, but I've got to say, he had a point. At some point when they're done with you - and you can feel it every once in a while - 'Is it now? Are they done with me? Will I ever work again?' And that feeling, to have it happen over and over in your life, what a lifestyle! I wouldn't want it for my kid. I tell her, 'Here, try this stethoscope on, honey, and see how that feels.'"

The father of a 6-year-old daughter with his wife, actress Kathryn Erbe ("Law & Order: Criminal Intent"), Kinney co-founded the Steppenwolf Theatre in Chicago. For a long time theater was his main but not his only interest.

"We were groomed on films more than plays. It was films that inspired us. We wanted to do the kind of work (John) Cassavetes was doing with 'Woman Under the Influence,' Al Pacino in 'Dog Day Afternoon' and the movies 'The Scarecrow,' 'The Conversation.' We wanted to do that kind of intimate and focused work on stage where acting was so internal. That's what we did."

Kinney, with cohorts like Gary Sinise and John Malkovich, stayed with theater for many years. "But we did film because we finally wanted to make money, and it paid better. So I think the first thing I tried out for was a small part in a television show in Chicago that I got. And it felt so weird, so unreal because you're out on a real sidewalk instead of on a stage and you only work , like, 30 seconds at a time," he says.

"I'd done giant plays and here I was saying something like, 'Really?' That was it. That's all I got to do."

But now he prefers films and has co-starred in movies like "The House of Mirth," "Save the Last Dance," "Fly Away Home."

But his career moves were minuscule compared to life moves, he thinks. "The first time across the table I saw my wife, she was just an actress I'd never met when we were doing 'Grapes of Wrath.' I saw her clear across the room, and I was stricken. That was a big one. The biggest of all was the moment my daughter was shown to me across the surgical tent. It was a C-section, and that was a big moment."

Like most people, parenthood became an epiphany to Kinney. "I never realized, fully at least, how much of the adolescent hero I was hanging on to. There's a certain amount of ego that an actor has to maintain in order to do what they do because they've got to go 'out there' with it and be open about going out there. . . I think that what I learned permanently was that I now didn't come first, even in my own mind - even for a second."
**************************************************************************************
Copyright 2001 Newsday, Inc.
Newsday (New York, NY)
May 4, 2001 Friday ALL EDITIONS


A Shell-Shocked New Yorker Finds It's Raining Women
BYLINE: By Jan Stuart; STAFF WRITER

(2 1/2 STARS) THE YOUNG GIRL AND THE MONSOON (U) Terry Kinney galvanizes a thoughtful, if uneven, comedy-drama of a 39-year-old divorced parent who feels overwhelmed by pressures from a much younger girlfriend and a needy teenage daughter. With Ellen Muth. Written and directed by James Ryan. 1:30 (adult situations). Angelika Film Center, Sutton, Manhattan.
AMONG THE MOUNT RUSHMORE of Steppenwolf Theater pioneers who include John Malkovich, Gary Sinise and Joan Allen, Terry Kinney is the least prepossessing and arguably the most audience-friendly. He provides a very firm center of gravity for the daughter-and-dad drama "The Young Girl and the Monsoon," no mean feat when you consider that his character is standing on very shaky ground.

Kinney is Hank, a 39-year-old New York City photojournalist and divorced father to a very dramatic 13-year-old named Constance (Ellen Muth). Constance is an armful, boasting a talent for acting out her pubescent rages in Chinese restaurants and Central Park. She's manipulative and canny in the way that an only child can be, playing upon her father's guilt to buy her a Betsy Johnson dress or getting a rise out of him with a dirty joke she heard in school. She thinks Hank is weird.

And you can see her point. Hank has that nerdy, nervous air about him that comes from years of photographing terrible events in Third World countries and being jilted big-time by Constance's mother. He has an adoring, 26-year-old girlfriend in Erin (Mili Avital), a fashion model who can use the word "anachronistic" in a sentence, but he is working overtime to sabotage the relationship.

Written with intelligence and care by New York playwright James Ryan, "The Young Girl and the Monsoon" attempts to balance the angst of a middle- aged man, who feels overwhelmed by the two women in his life, with that of a precocious teenage girl who perceives more about her father's emotional life than she is able to articulate.

The effort is not entirely successful. A subsidiary set of relationships having to do with Hank's boss and former lover Giovanna (Diana Venora) has a glib, sitcom edge, and an otherwise excellent Muth is required to shed a monsoon of tears before the film arrives at its consoling destination. It's a likable enough film: Ryan can juggle throwaway sight gags about condoms as adeptly as a wrenching conversation about a drowning cow in Burma. There is enough interesting writing to make us wish that Ryan had not chosen to direct his own script, as the filmmaking feels a bit starchy and anemic.

As with "You Can Count on Me," one's admiration for the filmmaker's familial concerns offsets many of its shortcomings. In the end it's Kinney's compassionate and warmly life-sized performance that makes "The Young Girl and the Monsoon" worthy of attention.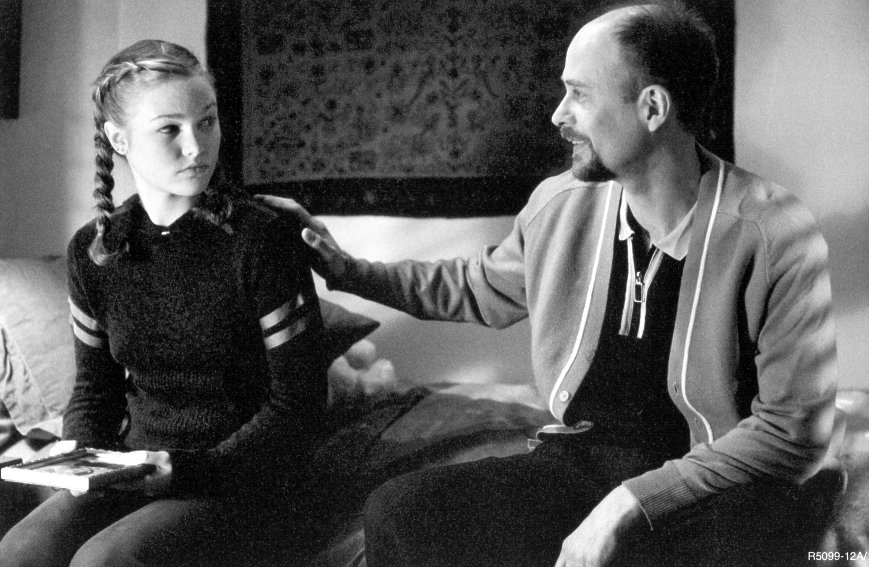 **************************************************************************
Copyright 2001 The Providence Journal Company
The Providence Journal-Bulletin
May 11, 2001, Friday, All EDITIONS


                                                                                     The ubiquitous Terry Kinney

With his staging of One Flew Over the Cuckoo's Nest playing on Broadway, a leading role on the HBO series Oz and roles in several recent films including Young Girl and the Monsoon Terry Kinney looks like the latest King of All Media.

"Maybe I'm in all media," Kinney said from his home in Brooklyn, N.Y., "but I'm a blue-collar guy in every arena. I just tend to do things that cult audiences watch." A founding member of Chicago's Steppenwolf theater company - he's directing his old Steppenwolf cohort Gary Sinise in Cuckoo Kinney has mainly been employed in movies in supporting roles. But The Young Girl gives him a solid leading role, as a divorced New York photojournalist who can't bring himself to tell his 13-year-old daughter (Ellen Muth) about his 26-year-old girlfriend (Mili Avital).

"We did it on a very small budget and a few locations around New York," Kinney said. "It was such a hard shoot. I had a broken foot the entire time, it was hot and really uncomfortable and everybody screamed at each other all the time. But we really liked the material a lot."

Kinney also played an emotionally distant divorced dad in the recent box-office hit Save the Last Dance, which he describes as "a kids' movie."

"But it didn't start off that way," he added. "Most of the story was about a teenage girl adjusting to living with her father. Most of the dark qualities about where he lives and how he lived had to be cut out because MTV bought the movie."
FILM IN REVIEW;
'The Young Girl and the Monsoon'

By STEPHEN HOLDEN

Directed by James Ryan
Not rated, 90 minutes


Middle-class teenage girls can be as scary as anybody else. And in "The Young Girl and the Monsoon," Ellen Muth, a 19-year-old actress who looks considerably younger, virtually explodes in the role of Constance, the volatile 13-year-old only child of divorced parents. An emotional powder keg who one minute can be as clinging as a baby and the next delights in cruelly demolishing the nearest grownup with laserlike sarcasm, Constance is a flailing mood swing on a circuitous warpath. The film, written and directed by James Ryan, a rising playwright whose work has been produced by Playwrights Horizons, Ensemble Studio and the O'Neill Theater Center, crackles dangerously to life whenever Constance (who narrates the film) is on the screen with her father Hank (Terry Kinney). A successful New York photojournalist about to turn 40, Hank has agreed to take in his daughter for several weeks while his ex-wife goes on a trip with her new husband. Hank has been so protective of Constance that he has kept her in the dark about his turbulent personal life. He hasn't even told her about his 26-year-old girlfriend of one year, Erin (Mili Avital). A model who makes $10,000 a week, Erin wants to marry Hank and have his children. Faced with the possibility of becoming a father again, he panics and abruptly drops her. But given his daughter's instability and the brutal tests she puts him through, it's not hard to see why he balks at the prospect of having more children.

Hank and Constance's agonized father-daughter relationship is the heart of "The Young Girl and the Monsoon." And every word and hysterical inflection of their pitched battles, in which she repeatedly provokes him to lose his temper, rings painfully true. With a minimum of sugarcoating, the movie shows how Constance, who has been shielded from the facts behind her parents' divorce, bullies him into treating her as an adult even though she doesn't act like one.

The movie's too neatly tied subplots, which show Hank's life and career coming apart at the very moment he has been put in the running for a prestigious journalistic award, are less convincing. The most problematic strand is Hank's roller-coaster relationship with his editor and college sweetheart, Giovanna (Diane Venora).

On a deeper level the movie wants to say something about journalistic detachment and everyday life. Hank specializes in war pictures, and his daughter can't understand how he can sit back and snap photographs of human tragedy without trying to prevent it. It's a provocative theme that, having been stated, isn't subjected to any fresh variations. STEPHEN HOLDEN
http://www.nytimes.com
TERRY KINNEY'S TAKE ON THE PROUST QUESTIONNAIRE
Ensemble Unrehearsed: Terry Kinney
What is your idea of perfect happiness? Being John Mahoney's personal golf caddie.
What do you consider your greatest achievement? Cold fusion.
What do you consider the most overrated virtue? Female chastity.
What historical figure do you most identify with? Carl Jung.
Which living person do you most admire? Michael Jordan.
What is your greatest extravagance? Happy Meals.
Which words or phrases do you most overuse? "By the same token," "verisimilitude," "oneiromancy."
What is your greatest regret? Turned down invitation to play on original "Dream Team" in order to pursue my dream to manage the supergroup Milli Vanilli.
What or who is the greatest love of your life? Kate and Maeve Kinney, and Steppenwolf Theatre.
When and where were you happiest? October 26, 1995, 11:50 p.m.
What is your favorite journey? Asleep and dreaming. But I also like Paris.
What is your most treasured possession? Good health and my cigar humidor.
What do you regard as the lowest depth of misery? Press junkets, Karaoke, disco, organ music.
What is your favorite occupation? Poet, marine biologist, vintner.
What is your most marked characteristic? Devil's advocate.
What do you value most in your friends? Humility, then cash.
Who is your favorite hero of fiction? William Faulkner, Tom Joad, Holden Caulfield, Captain Ahab, Humbert Humbert, Felix Krull, Quentin Compson, Kate Vaiden.
Who are your heroes in real life? William Faulkner, Abraham Lincoln, John Kennedy, Robert Kennedy, Martin Luther King, Jr., Francois Truffaut, Gene Hackman, Michael Jordan, firemen.
What is it you most dislike? Media coverage of almost anything.
How would you like to die? Without a struggle.
If you were to die and come back as a person or thing, what do you think it would be? What's with this preoccupation with death? Something that could fly, I guess.
If you could choose what to come back as, what would it be? An eagle.
What is your motto? Don't panic. (From www.steppenwolf.org)
FROM ILLINOIS STATE UNIVERSITY WEBSITE: Alumnus, Award-winner Terry Kinney to Speak at Fine Arts Commencement 5/6/03 Contact: Marc Lebovitz
Actor and director Terry Kinney, one of the founders of Chicago's famed Steppenwolf Theatre Company, who, 27 years ago, walked across an Illinois State University Commencement stage to accept a bachelor's degree in Theatre, will give the commencement address for the College of Fine Arts ceremony at 7 p.m. Saturday, May 10, in Braden Auditorium.
Kinney also will be at an informal question and answer session for students, parents and the community at 1 p.m. in the Center for the Performing Arts Theatre. Both events are free and open to the public.
A native of Lincoln, Ill., Kinney and his ISU classmate Jeff Perry, along with their friend Gary Sinese, created Steppenwolf Theatre in a Highland Park church basement in 1974. Although the development of the company was on hold until Kinney graduated from Illinois State two years later, Steppenwolf has grown from an ensemble of nine actors to be one of the top non-profit theatres in the world with a 35-member company whose talents include acting, directing, playwriting, filmmaking and textual adaptation.
Currently, Kinney is the director of the Richard Greenberg play, "The Violet Hour," in its Midwest premiere at Steppenwolf through June 15. Coincidentally, the final production of the School of Theatre season, Greenberg's "Three Days of Rain," closed just days ago.
Kinney is an established actor and director on stage, film and television. Most recently he was a series regular on the HBO series, "Oz." Last summer he portrayed Dennis Shepard, the father of slain Matthew Shepard in the HBO film production of "The Laramie Project. Kinney received a Tony Award nomination for his acting in the Broadway production of "The Grapes of Wrath," and a Cable ACE nomination for his work on "Oz." He has directed at Steppenwolf, on Broadway, off-Broadway and a production of "Streamers" at the Kennedy Center in Washington, D.C.
Among Kinney's motion picture appearances are roles in "Save the Last Dance," "House of Mirth," Oxygen," "Fly Away Home," "The Firm" and "Devil in the Blue Dress."
A "Kinder, Gentler" Oz?! Saturday January 26, 2002 6:06 AM ET Daniel R. Coleridge
Grim-faced and goateed, Terry Kinney looks the part of Tim McManus, jailer in charge of the Emerald City cell block on HBO's Oz (airing Sundays at 10 pm/ET). Now in its fifth season, the gritty prison drama has put him through riots, an explosion and a man-bruising ex-girlfriend! But could life behind the walls of Oswald Penitentiary be getting more peaceful?
"Some people have said this season's kinder and gentler," Kinney tells TV Guide Online. "I'm not sure about that. But the show's emphasizing its spiritual side a little more.
"Usually," he adds, "things go so badly for everybody on Oz. Oh, all the sensational stuff is still present because, ultimately, it's got to have verisimilitude to a real prison. But there's a lot more hope this year than there has been. I've seen a lot of the episodes and [they're] the best that we've done."
Kinney finds hotheaded McManus is "a lot calmer" now that he's learned to "work through the system, and not fight against himself and everybody else so much." This week, he'll help inmates train guide dogs - can you guess who'll end up mauled? - and aid two mortal enemies in forging a tentative peace. Plus, expect a continuing "romantic lull" since his scary affair with beefy prison-guard Claire. Grins the actor: "Tim's taking care of himself this year, not hounding after very inappropriate relationships."
Come March, Kinney will also be seen playing Matthew Shepard's father, Dennis, in HBO's intense teleplay, The Laramie Project - which explores the impact of the gay teen's infamous murder on his Wyoming hometown. What draws the actor to such dark material? "Gosh, people ask me that," he says, "but everyone who knows me well knows I'm goofy. You wouldn't know that, but that's the truth!"
TERRY KINNEY WILL BE DIRECTING A PLAY IN THE 30TH SEASON OF STEPPENWOLF THEATRE COMPANY IN CHICAGO, ILL. STEP'S NEW "BACKSTAGE" MAG HAS AN INTERVIEW WITH HIM ABOUT IT.